All About The '21 Malibu
The Chevy Malibu continues to become more sleek and edgy as it continues to undergo updates and redesigns year after year. The midsize car boasts a beautiful exterior and a comfortable ride when you want to enjoy a versatile vehicle that has excellent value. It's important to discover all the vehicle offers before you choose to see it in-person at our Team One Chevy dealership in Gadsden.
Highlights
The 2021 Chevy Malibu comes with five available trims. The model has an optional leather package, which includes leather seats, a leather steering wheel, and a heated steering wheel. A Driver Confidence package is also offered, along with 18-inch alloy wheels that beautifully accessorize the body. The vehicle delivers a gentle ride and doesn't feel harsh when driving over bumps in the road. The sportier handling makes it fun to drive and allows it to feel like you're in a sports car at times. The handling still manages to feel poised while driving. Drivers will also enjoy the excellent gas mileage and can use it as a reliable commuter car. The quiet interior offers a relaxing place to drive and muffles out harsh wind and highway noise while driving at high speeds. The car comes with a turbocharged 1.5-liter four-cylinder base engine, which generates 160 horsepower with 184 pound-feet of torque for plenty of performance for getting around. You also have the option of upgrading to a turbocharged 2.0-liter four-cylinder engine if you desire more power and acceleration for getting around. The vehicle comes with front-wheel drive and minimal body roll on sharp turns. It also has a progressive brake feel and feels well-controlled to ensure you have more peace of mind and ease while sitting in the driver's seat. The 15.7-cubic-foot trunk in the sedan also proves to offer more than enough space for loading up your suitcases or groceries and is deep enough to make it easy to get items in and out.
New Features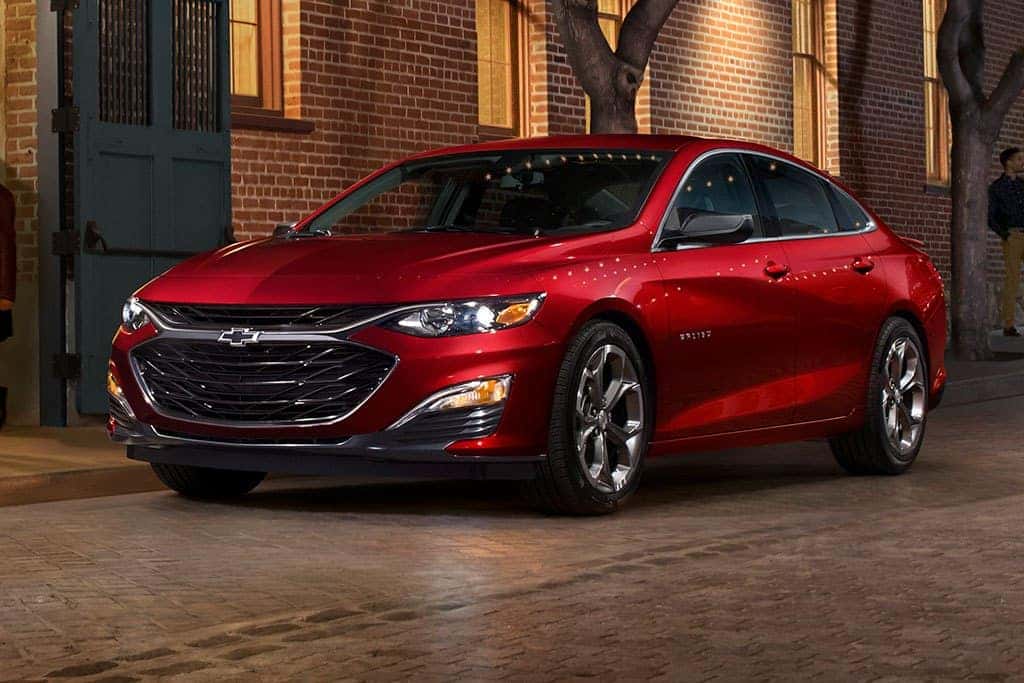 One of the advantages of owning the 2021 Malibu is the several new features that have been added to enjoy having all your needs met. Apple CarPlay now comes standard and makes it easy to have more connectivity to your smartphone device. Dual-zone automatic temperature control offers increased comfort for the driver and passenger. Power seats also make it easy to adjust your seating position and comfort with little effort. Multiple charging ports that are located throughout the cabin also make it easy to find plenty of spots to charge your phone or tablet. The exterior looks sleek and has a long hood, causing the body to look regal and upscale. The wide grille is minimal and proves that sometimes less in more with its luxe design. The modern taillamps are also classy and make the Malibu recognizable with its unique style and appearance. Some of the luxurious accommodations you can upgrade to in the cabin include wireless device charging, an 8-inch digital driver display, navigation, remote start, a nine-speaker Bose stereo, and a sunroof to get a chance to see the sky overhead.
Safety Features
Many safety features come standard in this sedan to improve driver confidence and have more accountability with your driving habits. Parking sensors alert you when you get too close to other vehicles or objects while operating the vehicle. A backup camera also helps you to get a good view of the rear of the car to avoid accidents. 10 airbags are included, which deploy upon impact if you're ever in an accident. Additional safety features that can offer peace of mind and correct any mistakes you make behind the wheel include forward collision warning, and pedestrian detection. Parallel park assist offers a high level of convenience when you need to parallel park into a tight space on a crowded seat and have a lack of visibility. Adaptive cruise control is also helpful because it helps you to remain a safe distance from the car ahead without tailgating to avoid a fender bender or major collision on long drives. The Teen Driver System is also useful if you have a new driver who plans to use the car. The technology allows you to set limits to the speed and volume control on the vehicle to ensure a secondary driver remains safe while operating the vehicle without your supervision.
When you're ready to learn more about what the 2021 Malibu offers to drivers, we welcome you to reach out to our experts at Team One Chevy in Gadsden. Feel free to schedule a test drive or contact us to learn more about our financing options.